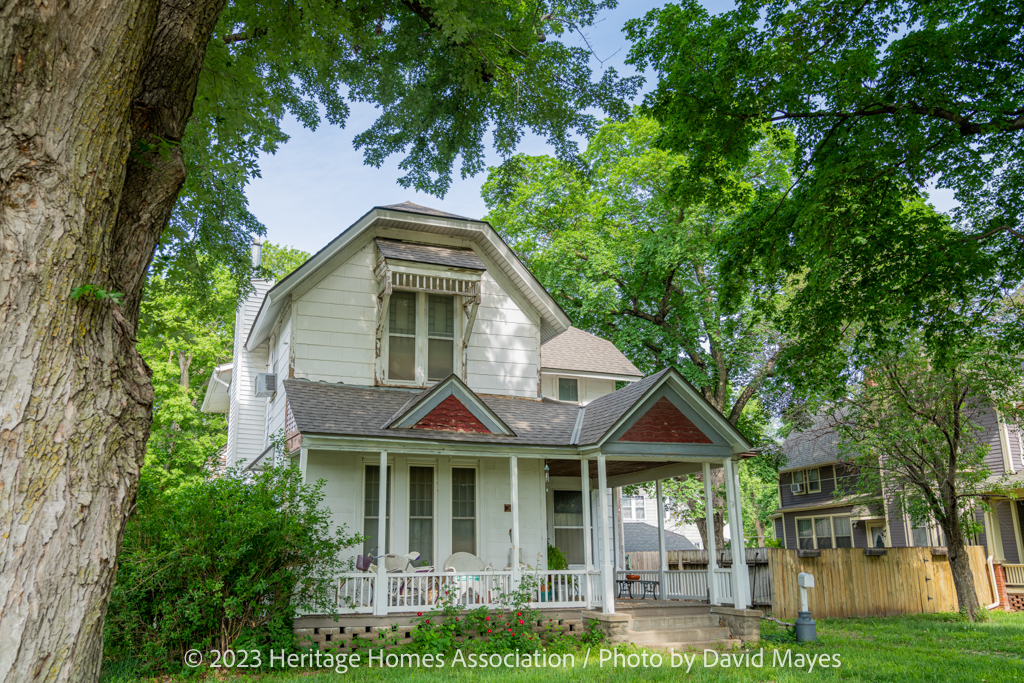 George and Minnie Gleissner House
George and Minnie Gleissner built the Prairie-style home in 1902. George was a traveling salesman and nephew to George C. Sterl. Gleissner worked for Sterl in the clothing business, later becoming a partner with his brother to form the Sterl Brothers clothing store.
2021 Homes for the Holidays Tour Feature
This Prairie-style home is believed to have been built in 1902 by George & Minnie Gleissner and is perhaps the second home on this property.  The Prairie style did not become popular until the early 20th century; most were built between 1905 and 1915. They quickly faded from fashion after World War I.
The 1904-05 Abilene City Directory shows George and Minnie Gleissner living at this address; George was a traveling salesman.  The 1908-1909 Directory lists Oscar A. & Lucy Sterl residing at this address.
In 1907 the Abilene newspaper stated that "George Gleissner sold newly married Oscar Sterl a residence on Vine Street for $3,100".  Oscar and Lucy were married in April 1907.
Oscar, the nephew of George C. Sterl, came to Abilene in 1898 to join his brother, William, in association with their uncle in the clothing business.  Following their uncle's death in 1912, the brothers formed a partnership known as Sterl Brothers.  It was largely through the tireless efforts of Oscar Sterl that the fair, held annually in Abilene, grew from a small local project into one of the most highly-rated events of its kind in Kansas.  He was very active in developing the 4-H programs in Dickinson County.  The main venue at the fairgrounds, Sterl Hall, is named after him.
Oscar's brother, William, never married, and his sister, Louise, married Dr. Pete Bachman Witmer.  Louise and Pete had a daughter, Mary Elizabeth, who married Dr. Glen Hampton, a dentist.  Mary and Glen had two children, Pete and Louise.
Oscar died in 1946, and Louise in 1963. They had no children, so Louise left the property to her niece Louise and nephew Pete. They sold it to James J. and Mary K. Wesley.
In 2006 James Wesley, by then single, sold it to Kelly & Karen Cooper. In 2016 their daughter Lydia and son-in-law Trevor purchased the home. They are the current owners.  Raised in Abilene, they plan to make their "forever" home in the community.  They have two sons.  Trevor has served on the Abilene City Commission since 2018 and works full-time as an unmanned aircraft systems (UAS) data analyst. He is also the founder of Kairos Geospatial, a corporation that provides services for manned aircraft survey companies.
Knowing she wanted to do something in the arts, Lydia started her own graphic and web design business.
Property Details
Kansas Historic Resources Inventory
206 North Vine Street, Abilene, KS, USA