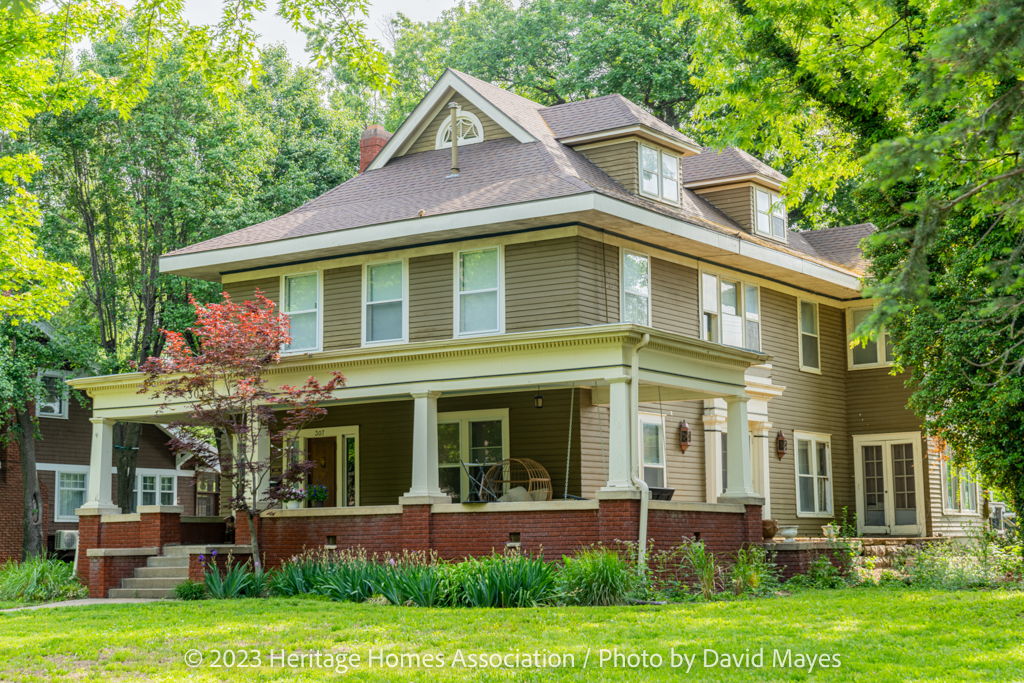 Johntz House
This Colonial Revival style home was built in 1907 by John E. Johntz, an attorney affiliated with the Citizen Bank for more than 63 years, where he served as vice president.  His father, John, was one of the founders of the bank.
2021 Homes for the Holidays Tour Feature
This Colonial Revival house, featuring a wrap-around porch on the front and south facades, was built in 1907 by John E. Johntz, the son of John and Hattie Lebold Johntz. A graduate of Abilene High School, he attended Wesleyan College in Ohio. In 1893 he graduated from the University of Michigan Law School and practiced law with S. S. Smith until 1898 when he became affiliated with the Citizen Bank; his father, a pioneer Abilene merchant, was one of its founders.   He was associated with the bank for over sixty-three years, achieving the title of vice president.
He married Daisy Hoffman, from Enterprise, on September 20, 1906. She was very active in club work and was honored several times for her contributions to the community and beyond.  She graduated from Kansas State University and held the distinction of being the first kindergarten teacher in Kansas.
They lived in the home until 1964.  Over the next 23 years, the home had five different owners until Stan and Victoria Martin purchased it.
Stan, an avid musician, was born and raised in Abilene. He graduated from Abilene High School in 1968, received degrees in philosophy and English from the University of Kansas in 1972, and his law degree from KU in 1975.  He served as a Vista Volunteer in Montana before returning to Abilene to practice law as a partner in Martin and Sexton, P.A.. He served as city attorney for Abilene, Herington, Solomon, Chapman, Hope, Woodbine, Manchester and Enterprise.  Stan died in 1999, and in 2002 Victoria sold the property to James & Stephanie Valent, who, five years later, sold it to Timrek and Tara Moore.
For current owners Kelly and Karen Cooper, this is the third house they have lived in on North Vine Street.  The first was just south of their current home, which they had rented for a while. In 2008 they purchased the house at 206 N. Vine, which they outgrew when they became foster parents.  Karen wanted to stay on Vine Street, and when this home was for sale in 2016, it was the perfect one for their growing family.  The Coopers have eight children, with two at home.  The finished third level is where the college girls love to gather when they come home and is also the area that Stan Martin used as his music room.
Property Details
Kansas Historic Resources Inventory
307 North Vine Street, Abilene, KS, USA