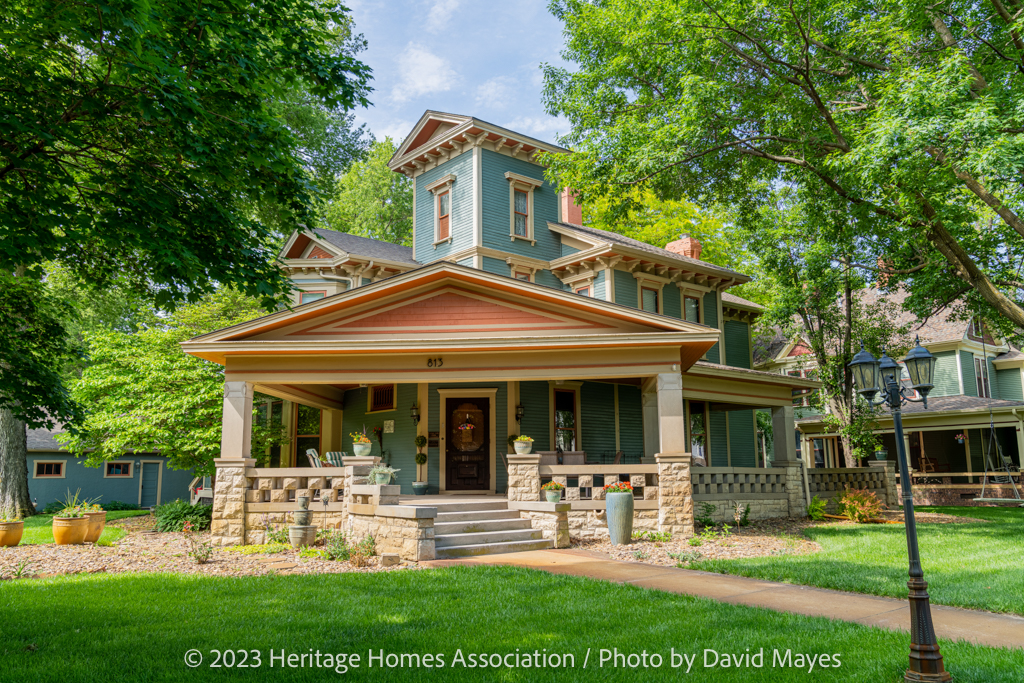 Mead-Rogers House
Built in the Italianate style in 1886 by Clarence F. Mead, an early Abilene attorney.  The home was remodeled extensively in 1907, incorporating elements of the prairie style, including the addition of a large front porch.
2022 Homes for the Holidays Tour Feature
Built in 1886 by Clarence F. Mead, a prominent attorney, the home offered many luxuries for his bride, the former Juanita Wise, such as a call button that summoned the maid. This Italianate home was built with an open plan and spacious interior - quite a departure from familiar architectural tradition.
The first floor consists of a foyer, dining room, library attached to a large living hall and a sunny morning room with two built-in China cupboards with leaded glass doors.
In 1901 George A. and Della Brown Rogers bought the home and added the massive front porch a few years later. The columns and masonry of the porch are of the Richardsonian Romanesque style.
Delia was the daughter of C. L. Brown, the Abilene man whose success in the milling, utility and telephone business led to the establishment of United Companies.
In 1923 George and Della replaced the existing bathrooms, staircase, floors and woodwork, except for the library. New oak flooring was laid over the old pine floor. They also added the second-floor bay windows, extending one of the hallmarks of the Victorian façade from ground level through two stories.
The second floor also includes a bedroom with a half bath that could be reached via a back stairway for the maid at the south portion of this level. The second floor is completely divided by a long hallway with windows on the north and south ends and bedrooms for the family.
From 1900 to 1928, George Rogers served as president of the Abilene National Bank. He bought 12 acres of land, including Sand Springs, from an eastern estate and built a pipeline to the springs offering the entire system to the city for exactly his cost, $5,000. Abilene secured the finest system of water in the state almost as a gift, according to the March 10, 1928, issue of the Abilene Daily Reflector. In 1928 when George Rogers died, the Governor of Kansas was among those who attended the funeral in the home.
The house features four sets of pocket doors, three of which have glass panels.
Property Details
Kansas Historic Resources Inventory
813 Northwest 3rd Street, Abilene, KS, USA