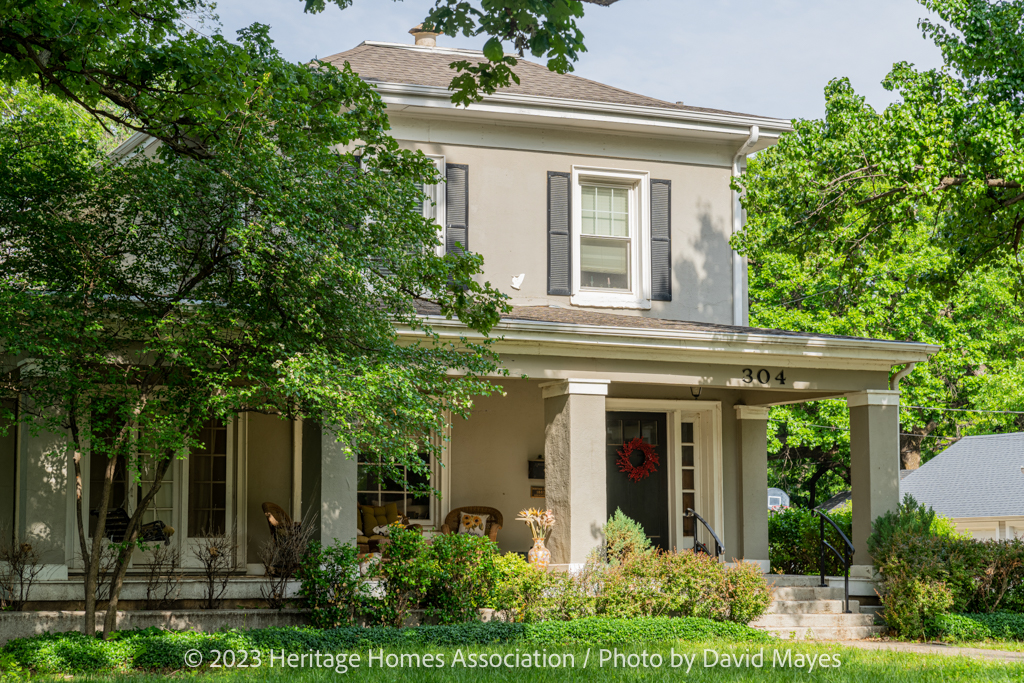 Stambaugh-Rogers House
Built by Winfield Scott Stamburgh in 1885, this home was originally red brick in the Italianate style. In 1919 Ames P. Rogers remodeled and enlarged the home to reflect the features of the then-popular Prairie style. In 2008 the 3rd Street porch was reconstructed.
Homes for the Holidays Tour Feature
When Mary Jean Eisenhower walked in the front door of the house at 304 N. Vine she knew "this was home" and immediately bought it.
When it was built in 1885 by Winfield Scott Stambaugh it was red brick. Years later, the architect's blueprints from the 1919 remodeling project were found in an upstairs bedroom closet. They revealed the house originally consisted of a living room, dining room and kitchen on the first floor and two bedrooms upstairs.   The front porch, supported by six white wood pillars with detailing at the top and a railing surrounding it, was changed to stucco. The porch became more dominant, with huge columns characterizing the Prairie style.  A portion of the wraparound porch was replaced by a sunroom that may be entered through French doors on either side of the fireplace in the living room.  A bench seat was built along one side of the sunroom.
Winfield came to Abilene with the Buckeye Colony in 1870, taught school for a few years, read law with J. H. Mahan, and entered into a 21-year partnership with G. H. Hurd as a member of the firm Stambaugh, Hurd and Dewey, attorneys at law. He was active in the Republican Party. He moved to Fargo, where he formed the partnership Newman, Spaulding & Stambaugh.
Ames P. Rogers, following graduation from the University of Kansas, worked at the National City Bank of New York City. He returned to Abilene in 1919 to join his father, George A. Rogers, at the Abilene National Bank. He later succeeded his father as bank president.  He was a Mason, Rotarian, Legionnaire, director of the Chamber of Commerce and treasurer of the Red Cross.
Ames hired a Kansas City firm to build an addition to include a sun porch, kitchen, family room, bedroom, a French door connecting the original dining room to the new pantry and kitchen, plumbing, electricity, and space for an ice refrigerator and cooking stove.  A sleeping porch, bathroom with a seven-foot tub and walk-in closets were built in the original master bedroom.  The stairway, originally open to the second level, was altered, allowing for the installation of a large linen closet.
The Rogers family built a second addition constructing a family room and another upstairs bedroom prior to 1958.
The next owner, Rhea Guilfoyle, a widow, sold the house to her son William A. Guilfoyle, an Abilene attorney for more than 50 years (following in his father's footsteps). He served as president of the Abilene Elks Lodge, the Brown Memorial Foundation, and secretary of the Eisenhower Foundation.
Property Details
Kansas Historic Resources Inventory
304 North Vine Street, Abilene, KS, USA